Our aluminium goals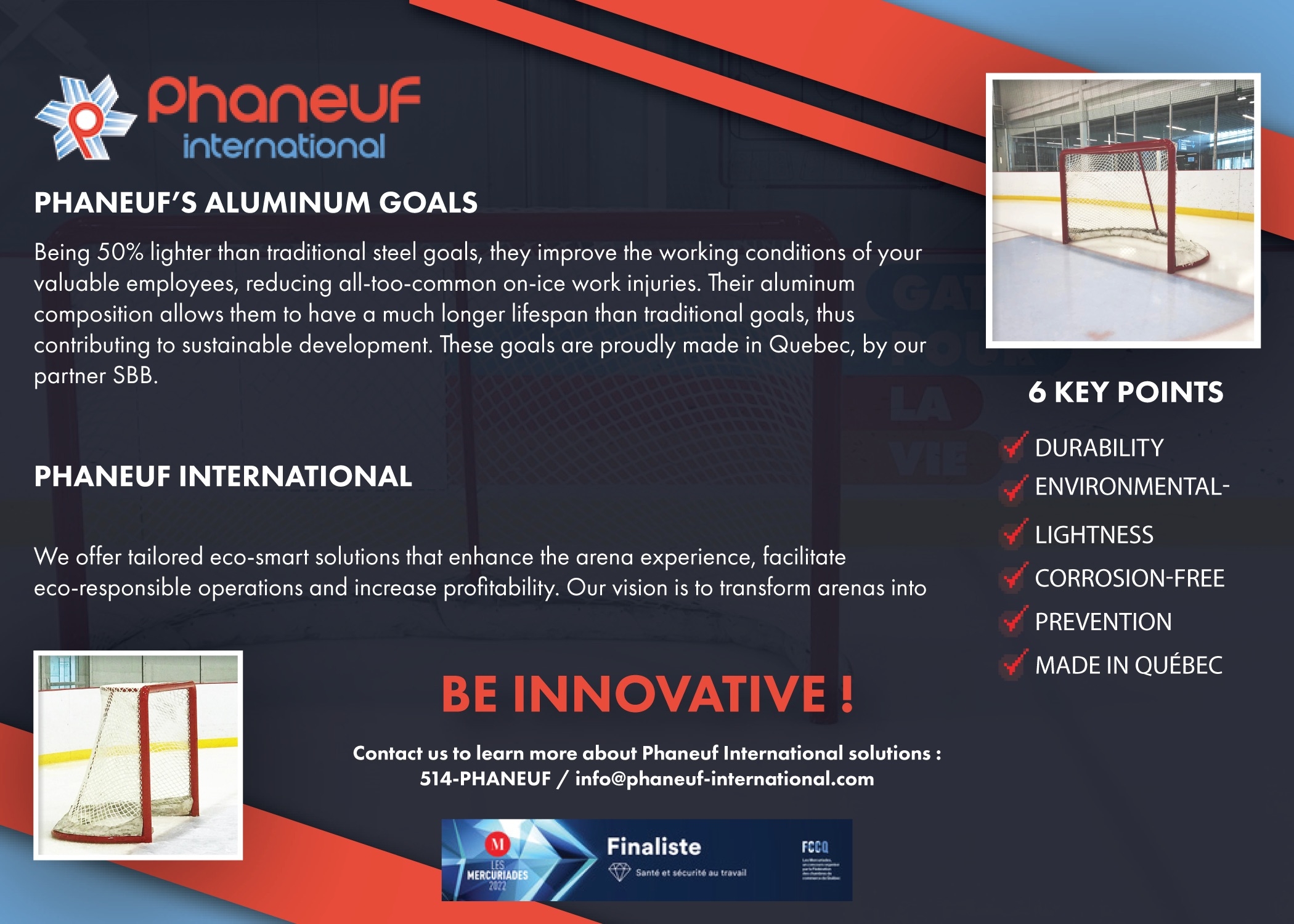 Do you know the history of our new aluminum goals?
At Phaneuf, we first created a remotely guided goal to dance one day with our self-driving ice resurfacers. However, without our groomer to dance, this goal became obsolete.
Given the urgent need to prevent workplace accidents and increase player safety on the ice, we wanted to make a difference. During the improvement of our remote-guided goal regarding its heavyweight, the idea of creating an aluminum goal came up. Being 50% lighter than a traditional steel goal, it improves the working conditions of the goalkeepers.
The environment being at the heart of our values at Phaneuf, their aluminum composition allows them to have a much longer life span than traditional goals, thus contributing to sustainable development.
These goals are proudly made here in Quebec by our partner SBB. SBB specializes in the design of emergency towers and structures designed by aluminum extrusions. Their passion for innovation positions them as world leaders in the manufacture of aluminum products. Present in more than 55 countries, their international reach is an asset for the growth of Phaneuf International #teamphaneuf .
Did you order your goal pairs?
In action at:
Gatineau, Sainte-Julie, Montreal (Plateau Mont-Royal and Ville LaSalle) and Ville Saguenay.
Follow us to not miss anything!
Our automated goals -will be offered only with our Phaneuf self-contained ice resurfacer
Equipped with a lightweight mobility module, an integrated inking system and a geolocation unit, the goals can be moved using a remote control offered.
Before and after a game of hockey or ringette, you can move them and anchor them to the designated places in just a few clicks!
This will allow you to move from one ice activity to another or store goals outside the ice easily and quickly.
Solutions to your challenges
No need for physical effort to move heavy conventional hockey goals and risk workplace injuries and accidents while on the move.
Aluminum goals anchor to the ice with your "Marsh Pegs" or our adjustable anchor pins.
Automated goals are safely anchored using an integrated system that drills holes in the ice where an anchor rod automatically descends from the frame to attach itself.